Beware of These Five Legal Traps as a Blissful Canadian Business Owner
March 29 @ 12:00 pm

-

1:00 pm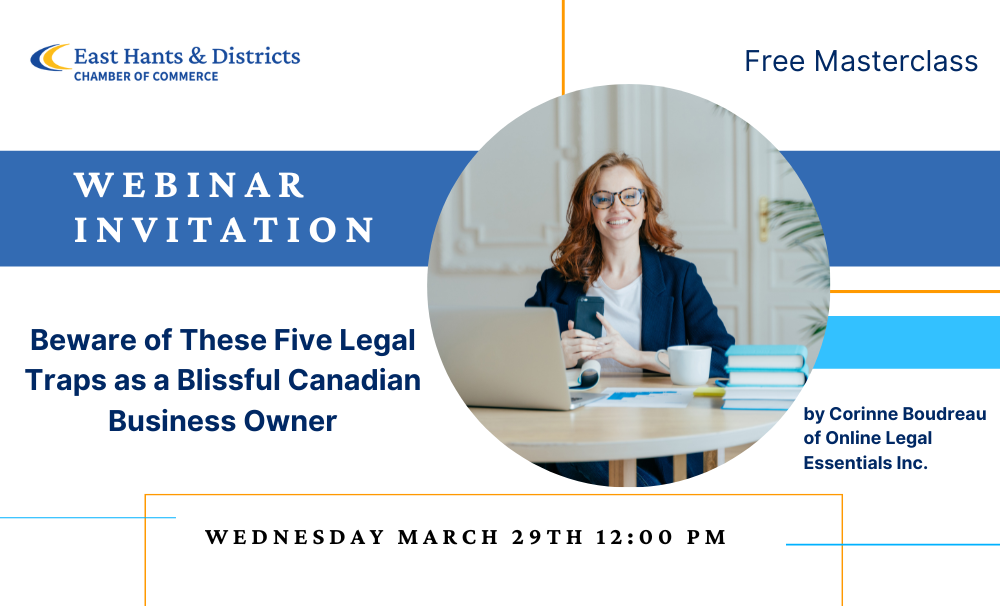 Join Corinne Boudreau of Online Legal Essentials Inc on Wednesday March 29th at 12:00 pm for a FREE WEBINAR
**Have you ever felt that you don't know what you don't know about legal issues in your business?
That feeling and the uncertainty around it can either lead you to spin your wheels or bury your head in the sand.  Neither strategy is ideal.
Corinn wil be sharing the best of what she knows in a LIVE MASTERCLASS: Beware of These 5 Five Legal Traps as a Blissful Canadian Business Owner
Here's what you need to know:
It's a 45-minute talk, with time for Q&A at the end.
She'll be covering the following topics:
– Why you shouldn't take $$ from clients without a written contract.
– Why you shouldn't name a business without proper searches.
– Why it's not a good idea to have a website without a privacy policy or disclaimers.
– Why selling online content without proper licensing terms creates problems.
– Why hiring people without written contracts creates risks and uncertainty.
PLEASE RSVP AT INFO@EHCC.CA SO THE LINK CAN BE SENT TO YOU.